Mit einem Retourenpaket 20 Minuten in der Postwarteschlange stehen. MIT EINEM RETOURENPAKET VON HERMES!!!!
An der kürzesten Kassenschlange treten die größten Komplikationen auf. So will es das Gesetz.
@twittlik nur weil du es nicht verstehst, muss das GUI nicht schlecht sein. Genug 15-Jährige kommen damit klar. Du bist alt. Punkt.
@twittlik Ich ahne, auf welche Revolution du anspielst.
@twittlik die heutige Jugend grenzt sich eben durch das GUI ab. (wenn die Eltern ihnen schon den Rest Popkultur mitokkupieren) @thsch
@Support I try to change my Email-Adress, but after clicking Email-Confirmation-Link always get Error-Page. pic.twitter.com/lMs9Qh8ysE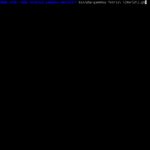 rasmus PHP 7 (gc=0) is now quick enough to run a gameboy emulator. Crazy! Even on my X220 from 2012 github.com/gabrielrcouto/… pic.twitter.com/kWqfulcmKc
@Munifornication klar. aber das Format irritiert mich. (wobei ******* natürlich ein einzigartiger Twitter-Name wäre)
Dieses ****** / ****** verwirrt mich. Das ist für mich Login / Passwort-Syntax.
Moin München instagram.com/p/BCPTkvpgkEa/
recordsANDradio ⬅️ Original photo
➡️ Replaced eyes with mouth pic.twitter.com/kJGk9hH7ke