petersterne Know how some men say having a daughter taught them importance of feminism? I'm the same, but replace daughter w/cat and feminism w/vacuum.
Tochter mit Kopfhörer. Singt die drei Fragezeichen-Titelmelodie. Es geht anscheinend um "Justus, Dieter und Bob"
Muttergefuehle Berufstätiges Telefonieren.

"Ich hab dich lieb."
"Ja."
"Ja? Ist das alles."
"M-mh. Vielen Dank."
Im Gegensatz zum Drei-Tage-Fieber ist die Mundfäule eine Krankheit, die wenigstens hält, was der Name verspricht.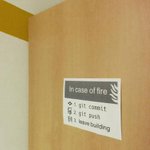 joaomdmoura Best of the week lol:
In case of fire:
- git commit
- git push
- leave the building pic.twitter.com/89nElZ1hyO