"Hab ne Zwiebel auf dem Kopf, ich bin ein Dööööner!!!" Die Kinder freuen sich aufs Abendessen.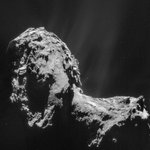 ESA_Rosetta Here's how my NAVCAM sees #67P silhouetted against the coma: blogs.esa.int/rosetta/2014/1… #Cometwatch pic.twitter.com/TwwdHJCB8W
Zeugenaussage vor Gericht gemacht ohne einmal Ausweis oder Vorladung zeigen zu müssen. Hätte auch ein kleines Äffchen schicken können.
saladinahmed I also wonder whether anyone's written a good essay on queerness, masculinity, and 1980s He-Man. pic.twitter.com/xJKH1cJBvq
@dasnuf nur wenn du in den 10 Stunden konstant 1-2 Kinderbeine im Kreuz hattest.
@Surfin_Bird Ersetze Dinosaurier durch auserirdische Rieseninsekten -> Starship Troopers