GaryLineker How can we allow people like @JuliousHeyneke to murder these beautiful animals? The pictures he posts are utterly disgusting!
@dasnuf Wem ist Sebastian Sick?
Surfin_Bird Hallo One Direction. Als Kirk, James, Lars und Cliff so alt waren wie ihr Nasenbären, haben sie Kill 'em All veröffentlicht. Würstchen
"Wem gehören die Kinder da? Die rennen rum!" Alter, dann sag's ihnen!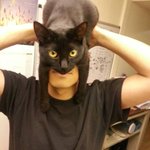 Damientg How to look like Batman, using your cat. pic.twitter.com/eRmmQgcXe3